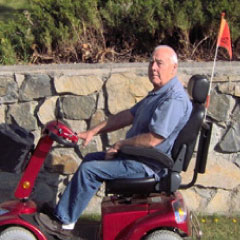 "I purchased an INMO scooter online from Scooter City November 2015. After delivering it to Ashcroft, BC at no charge, Pam took time to explain the operation of the scooter to me. The Scooter was everything the online info stated and ran well all winter. The following spring it developed a problem. One phone call to Scooter City and they were here to pick it up, take it to their shop for repair under warranty and return it to Ashcroft; again at no charge to me.
I am VERY pleased with the pleasant, courteous and prompt service from this company."
-Gordon, A happy scooter rider
Charles ******* my wife have dealt with Scooter City for a long time we find scooter city is the best company around and we are very proud to deal with Scooter City. They go out of their way to help their clients that is why we love Scooter City so much they give their clients a fair break in life. We will always deal with Scooter City.
I have dealt with Scooter City since 2009, & have had many good conversations through emails over the years. I have had 2 mobility scooters from them, one in 2009, then another 2016, & their service is prompt, & top notch. We live in mid province & they delivered both right to my door.
09/02/17
patricia h.
Super service and very reasonable prices. Warranty service is amazing. Thank you Christine and Greg for all you kindness and patience. I would recommend your shop to anyone needing a full service scooter shop." Five stars".
Comments
22/02/17
Louise J.
My husband and I have dealt with scooter city since 2006 and have always found them to be more than helpful when we've had problems of any kind (we are now on our 3rd scooter with them). Their service is quick and reliable, not to mention that we are always provided with a free loaner, and their prices are very reasonable. Because of my husband's illness, we deal with other companies for a lot of medical supplies not carried by Scooter City (unfortunately!). There is no comparison in the level of service.
02/09/15
Karen C.
HI All I am not usually in the business of recommending a business, but the past few experiences with my scooter, I feel deserves mention. I live in Sechelt and I really try to shop locally but when I was in the market for a new scooter, I had several needs. The scooter needed to be able to go up the very steep hills in my area, and I needed a canopy and tote for all weather conditions. I was told locally that my requests could not be met, and that the basic scooter would cost me a WHOLE lot more money than Scooter City would supply. So I bought from Scooter City, and I have had to have some repairs since my purchase ( tires, brushes for the motor). I also had a very unfortunate seize up of the motor, which they covered under warranty, and they provided me with a loaner while repairs were made) In every case they have sent someone from Port Coqutlam the very next working day on the ferry (at no cost to me) and made the necessary repairs (the mechanic came here). They have stood by their products, and been ever so helpful. For those of us who need wheelchairs or scooters, I cannot recommend them more highly. Waiting for days or weeks for repairs is not something I can do, and Scooter City recognizes this. I use my scoter VERY heavily and go up my hill at least once a day, to the Rec Centre or Mall. I feel I need to pass this information along as a small thank you for all they have done for me. Love Karen cc Scooter City
  A big thank you Christine for all your help in helping me select the best suited scooter. The service in your shop and during our phone calls has been wonderful. You have been most kind and patient with my difficulty making a decision. Thank you also Greg for your kindness and patience in explaining every detail to me after delivering the scooter to me. I certainly made a great decision in choosing to shop with Scooter City.
Pat
January 2016
The folks at Scooter City in Coquitlam are the best. I often refer people to them.
February 2016
I want to thank everyone at Scooter City for their professionalism and quality of service I have received. You went above and beyond in taking care of my needs. And in being a senior relying on a scooter and living on a pension I can't tell you enough how thankful I am for your excellent service
Response from the owner 
Wilma, thank you so much for your kind comments, we all appreciate them, and thank you for being one of our customers. We look forward to a happy relationship.
"I have walked dogs every day for 25-30 years so when my ability to walk was lost, it created depression. Being out with my dogs is my meditation. Once I got my scooter from you guys, the part of my world which was sooo important to me, was given back. Every day I not only take my dogs, but other dogs out for great exercise and enjoyment of the great outdoors.
It also gives me the opportunity to enjoy time with my kids, who will accompany me on their bikes or job along side of me. We used to bike ride together all the time and having a scooter has allowed me to share that activity with them again. Not to mention going to events like the Abbotsford Air Show or the BC Highland Games. Two activities we would do every year until I couldn't go any more because of my lack of mobility. Now, I can join my family at any event. Thank you so much to you and your staff for your caring and 'above and beyond' service and mostly for providing me with FREEDOM!"
Forever grateful,
-Gail from Port Coquitlam, BC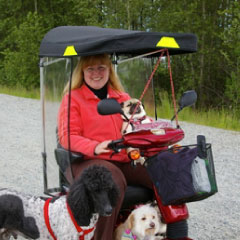 "I've had my Celebrity 3 wheel from Scooter City since March of 2003 – it's given my a great sense of freedom – I love it!"
-Amber from Whitehorse, YT
"We got our Scooter from the folks at Scooter City and we ride everywhere. My Dad goes in for dialysis treatment and takes the bus with his scooter. They were kind enough to take my Dad out to the Coast Mountain Bus Depot at 41st and Oak to learn how to get on and off the bus."
-Tassle and her dad Roger, Vancouver BC